Latino Education: Hispanic Serving Institutions
Christina E. Rodriguez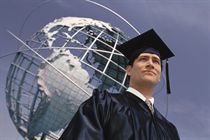 The number of Latinos in college hit an all time high in October 2010 with 12.2 million, increasing a whole 24 percent in one year, according to the Pew Hispanic Center based on numbers pulled from the 2010 U.S. Census. For a demographic of students whose college enrollment rates were often lower than their counterparts, these figures illustrated a significant boost. For educators, these numbers weren't all they wanted; t hey knew their new goal was to keep enrollment high and see these students through graduation.
Begun in the 1980s, the Department of Education established a label known as Hispanic Serving Institutions, or HSIs, for colleges or universities where there must be a minimum 25 percent enrollment of Latinos. With the ability to enhance curriculum based on need, these institutions were able to cater to one of the largest serving demographics, taking their programming from bilingual transitional classes in college, to creating bridge programs, with the intention to see Latinos through to walking the stage.
What is realized is that the issue is not getting students into college, says Dr. Daniel Lopez Jr., associate vice president for student life at Northeastern Illinois University. The issue is getting these same students to graduate.
"Our graduation numbers are not what we want them to be," said Dr. Lopez, even though the incoming freshman class for fall 2011 was 50 percent Latino. "This is where we want to focus and in the last four years the university has developed a strategic plan that addresses student success and there are a number of initiatives that we have in place to address that. It's not enough to get them to a university, we want them to graduate."
The point of four-year universities like NEIU is to keep students that want to complete their education and offer programming that make students feel that they belong.
According to Andrew C. Sund, president of St, Augustine College which was founded because of the Latino need for higher education, the one thing that makes his college unique is the fact that classes are taught bilingually. There is a transitional method in terms of bilingual education that is implemented in adult classes so that students are able to transition easily into their all-English college courses after getting their associate's degree at the school.
"What makes us really unique, what no other institution in the Chicago area does is that we have a bilingual curriculum," explained Sund. "So people who don't speak English fluently can come and begin their coursework in Spanish and at the same time you're learning English. So by the time you graduate with an associate's degree, you have a degree and you dominate the English language so you can be successful in a professional setting."
The average age for students at St. Augustine is 28 and has an enrollment of 85 percent Latino students both immigrant and native born. Unlike four-year institutions, St. Augustine sees it as a success when students transfer out early or graduate with associate's degrees, giving them a success rate of about 60 percent.
Among other things, the atmosphere is where these schools feel that they can make the biggest difference.
"A student really liked that here he had relationships like he had at home," said Sund. "They can speak English then say a few words in Spanish and people understand what they're saying."
Dr. Lopez claimed the same at NEIU, where students can attend classes within their Chicago neighborhood. Faculty works hard to make sure students are getting the most of their education.
"We want to engage them. It's a challenge because they commute every day. We have to be extra vigilant and work extra hard to make sure that the students get involved as much as possible," he explained over the phone. "To make sure they're getting a sense of community; a home away from home almost."
Dominican University, which has a 27 percent Latino enrollment, was recently presented with a grant from the American Dietetic Association in dedication of Latino students to study nutrition. Dr. Judy Beto, professor of nutrition sciences, was the main author for the grant, noticing a high need within the Latino community, which typically has problems with obesity and high need of dietary care.
"Students start off in a high school where they're not talking about college and once they go into community college it's hard for them to keep up with their studies," she explained. "With this program called Puentes, we're bridging students from the community college into our college with a very strong mentor program to keep these students until the very end. "
The grant was awarded to Dominican University because of the straight career path laid out by Dr. Beto and her colleagues. Once students enter into the program, the will be able to practice their eventual career. According to Dr. Beto, students weren't able to practice nutrition because they weren't able to find time for supervised practice time as nutritionists. This program will allow for students to study for five years, allow them to have their supervised practice time without competitiveness and become a registered dietician. Because the school realized this, with the grant and program they will be able to increase Latino nutritionists by 4 percent in the next two years.
"Our goal is to help students to be the best they can be," she explained. "And start earlier to help people develop dreams they can achieve in a timely manner with mentor support."
These are only three schools among 10 HSIs within the Chicago area, but there are over 250 institutions nationwide that claim the title of Hispanic Serving Institutions. For more information on this, visit http://www.ed.gov
Christina E. Rodriguez researches and writes about job search strategy, career management, hiring trends and workplace issues for Empleos.

Subscribe
|