Let a mentor help you find success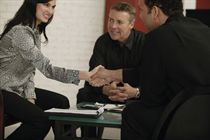 It's easy to think that in this economy, when there are at least five applicants for every open position, it's a dog-eat-dog world. That isn't necessarily true. More than ever people are willing to help and seek help when it comes to career questions.
Having a person you can turn to for guidance and advice can be invaluable as you navigate the uncertainties of your professional life. A mentor serves just that purpose.
But how do you find that person?
Contrary to what you may think, it's not necessarily a friend or your manager. Ideally, you should seek someone who can maintain objectivity as you seek their counsel.
Find the right mentor


Look for a person who shares your values and general work style and ethic.


Find someone in or out of your company who has been on a career path similar to yours.


Be sure it's someone you respect and who will help uplift you.


Once you've found the right person, it's important to prepare before you ask him or her for support. You must know what you want and what your expectations of the relationship will be. Be sure to define the type and amount of guidance you want so that you don't feel that they're overstepping and offering unwanted advice. You also want to establish how often you will meet. Will it be a regularly scheduled meeting or will your interactions take place primarily via email?  Be as specific as you can be so that everyone is in agreement about the relationship.
When you're ready to ask


Reach out and schedule a time to meet to discuss your career. Be sure to let the person know that you are not looking for a job, but only seeking their career advice.


Outline your plan during the meeting. Be flexible and open to their input and advice, after all, that's why you're seeking them out.


Be prepared for a no. Sometimes, the relationship just isn't a good fit. Not everyone is open to mentoring or feels they can dedicate the time that is required to support someone else's goals.
If the person is a good fit and agrees to mentor you, be sure to thank him or her. Most importantly, don't neglect the relationship or take it for granted. The worst thing you can do is leave a bad impression on someone you admire. Treat the relationship as you would any relationship you value.

Subscribe
|